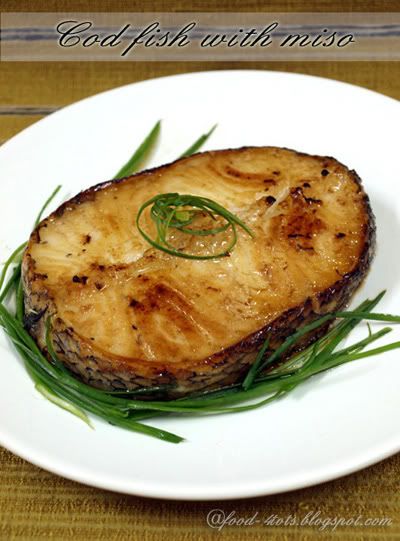 When I started introducing fish to my son, I steamed fish fillet. It is less risk for him to get choke with fish bone. Even now, I still prefer to steam fish for the family because it is easy, healthy, no-messy and will bring out its original flavour. Usually, I select fish fillet instead of whole fish which can be easily fitted into my electrical steamer. (This steamer can be used to cook rice and reheat food too!). Sometimes, for a change, I will pan-fry salmon and cod fish. I made this dish during my mother-in-law's current visit and she loved it very much.
Ingredients:
1 cod fish fillet (180g)
For marinating:
2 ½ tsp miso *
2 tsp mirin (Japanese sweet sauce/ wine)
¾ tsp sugar
Methods:
1) Mix all ingredients thoroughly in a small bowl.
2) Clean the fish. Pat dry with kitchen towel. Place on a ceramic dish.
3) Spread (1) over the cod. Cover with cling wrap. Set aside in the fridge for 1 - 2 hours.
4) Lightly scrape off (using a spoon/ butter knife) or wipe off (using fingers) any excess miso mixture on the cod.
5) Heat up ½ tbsp oil in a non-stick frying pan. Use a kitchen towel to spread the oil evenly on the pan.
6) Pan-fry the cod fillet with medium heat for about 3-5 mins, turn to another side to pan fry for another 3-5 mins or until it is golden brown. Dish up and serve.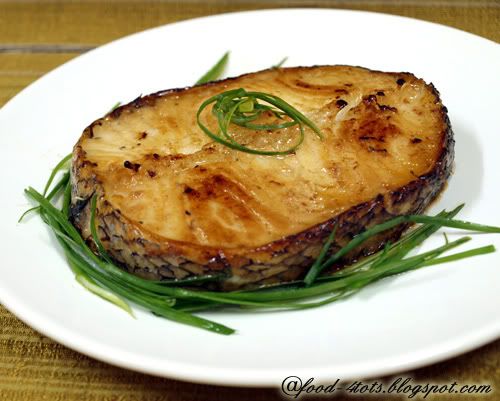 Note: I must make a confession. I have very little knowledge about miso. Most of the miso sold in the supermarket is written in Japanese. When I bought mine, I chose the one with lighter colour and less sodium. After reading this, I realized that miso can be categorized into white miso, light-coloured miso and red miso. I guess mine is fall under light-coloured miso. Different type of miso is used in different cooking methods as mentioned in this link.

Other references for miso:
- Wikipedia
- The Cook Thesaurus
- About.com
Other recommended pan-fry dishes:
- pan-fried salmon with teriyaki sauce
- zucchini cakes
- tofu and crabstick patties