As compared to siu kao (boiled dumplings), making siew mai (steamed dumplings) is more challenging to me. I had failed several times until my hubby teased me that he needs to ta pao (take-away) some siew mai from the hawker stall for me to "review my mistakes". After doing a lot of "researches" from the internet and cookbooks, I had finally found a GREAT recipe from "The Essence of Good Cooking" cookbook (a compilation of favourite recipes by parishioners and friends of Maranatha Retreat House). Why GREAT? Because it stated that the contributor paid to learn this recipe and its secrets to success.

By following closely this recipe and combined with some useful tips from other resources, I "passed" the test! I was granted the permission by my "Emperor" to share with you the following recipe. Although I didn't manage to catch a good shot on that day (because of poor lightings), I felt so rewarding seeing both my hubby and son enjoy the siew mai so much. Usually my son only ate one siew mai when we dined at the Chinese Restaurant. But on that day, he could easily finish 4 homemade siew mai (that are equivalent to the size of 6 siew mai sold outside!) and even demonstrated some "Kungfu" actions to express his satisfaction. Hahaha…! This special moment is better than striking the lottery!
~~~~~~~~~~~~~~~~~~~~~~~~~~~~~~~~~~~~~~~~~~~~~~~~~~~~~~~~~~~~~~~~~~~
Okay! Now let me present to you
"my secret to a success homemade siew mai".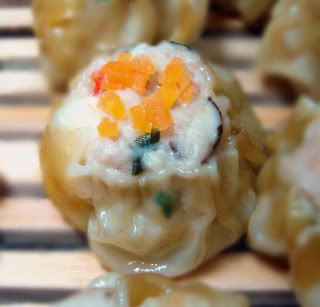 Yields:
15-18
Ingredients:
120g prawns (net weight, around 10 medium sized prawns)
100g pork (semi-lean)
2 pcs water chestnuts
1 pc dried shitake mushroom (soaked and squeezed dry)
1 stalk spring onion
20 pcs square dumpling skins (trimmed into neat round circles)
Seasonings:
½ tsp salt
½ tsp sugar
2 tsp cornflour
½ - 1 tbsp fried garlic/ onion oil
Dash of sesame oil and white pepper
Toppings:
Fine carrots cubes or fine cubes of salted egg yolk
Methods:(A) Stuffing

1) Chop water chestnuts, mushrooms, spring onion into fine cubes/ pieces.
2) For prawns, peel, de-vein and wash in running water, pat dry with kitchen towel.
(Secret no. 1)
Divide them into 2 portions. 1st portion – pat flat and chop with the back of a knife (chopper) till fine and sticky. Cut the other portion into fine cubes.
3) Knead minced prawns in a bowl till sticky.
4) Add in minced pork, cubed prawns, salt, sugar, pepper and stir well.
5) Add in water chestnuts and mushrooms and mix well.
6) Add in fried oil, sesame oil and cornflour and stir in 1 direction until well combined and sticky.
7)
(Secret no. 2)
Cover the bowl with cling wrap and chill in the fridge for at least 2 hours.
(B) Wrapping
1) Cover the wantan skin with a wet cloth (to prevent the skins from turning dry).
2) Prepare a piece of clean cloth to wipe your hands (make sure your hands are clean and dry)
3) Put a piece of wantan skin on your palm.
4) Add 1 full teaspoon of filling in the centre.
5)
(Secret no. 3)
Wet the edge of the skin with water (to help it stick tightly).
6) Bring the edges together with the back of the teaspoon. Close the edges using your thumb and index finger forming a circle like closing a full blossom rose.
7) Press down the filling and smoothen the surface (apply a bit of water and use your thumb).
8)
(Secret no. 4)
Flatten the bottom so that the siew mai can sit properly on a greased steaming bamboo basket.
9) Sprinkle with a little chopped carrots or salted egg yolk.
10)
(Secret no. 5)
Steam it over
HIGH
heat for about 10-12 minutes.
11) Remove and serve.