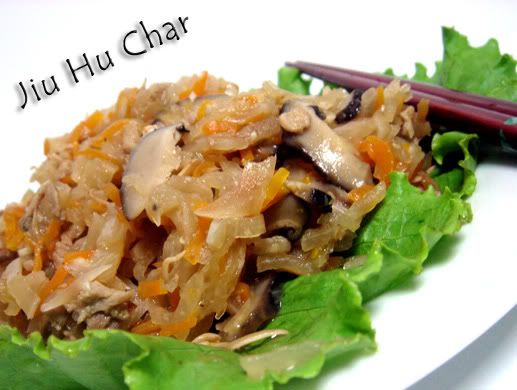 As a Penangite (born and raised in Penang), this dish is my all-time favourite. My mother used to make this dish whenever there was a special occasion like Chinese New Year or family gathering. Because of my personal craving, I had tried out this dish based on the recipe from Special Quick & Delicious Vegetable Cookbook with some slight modifications.
Ingredients:
500g yambean/ sengkuang 沙葛 (peeled and shredded finely abt 6-7cm lengthwise)
100g pork belly 花肉 (shredded finely) - ref note (b)
50g shredded dried cuttlefish 鱿鱼干丝 (washed, soaked, rinsed and squeezed out the excess water)
3-4 dried shitake mushrooms (soaked and shredded finely)
1 tsp chopped garlic
1 onion (peeled and shredded finely)
1 carrot (shredded finely 6-7 cm lengthwise)
4 tbsp oil
Seasonings:
1 tbsp oyster sauce
1 tsp salt
Dash of pepper
200ml water
Local lettuce leaves (for wrapping the yam bean mixture)
Methods:

1) Heat up oil and sauté chopped garlic and onion until fragrant.
2) Add in shredded dried cuttlefish and stir-fry until aromatic.
3) Add in pre-cooked pork belly and stir-fry until fragrant.
4) Add in dried mushrooms, then follow by carrot and yambean
5) Add in water, cover with lid and simmer with medium heat. Stir occassionally until the yambean & carrots turns soft.
6) When all the ingredients will shrink by half in term of volume, add in seasonings and stir-fry until well combined.
7) Cover with lid and continue to simmer under low heat until the gravy is thicken (and dried) and yambean turns soft and absorbs all the flavours. Stir occasionally. It takes about 30 – 45 minutes.
8) Adjust the seasonings if necessary.
8) Dish up and serve with lettuce leaves and sambal belacan.
Note:
a) Cut yambean and carrot at 6-7cm lenghwise as they will break easily during cooking.
b) Marinate shredded pork belly with light soya sauce, sugar and corn flour for at least 15 mins. Heat up a pan with 1 tbsp oil. Pour ½ cup of water and bring to a boil. Put the shredded pork inside and cook. Stir gently to prevent the pork from sticking to each other. When it is 80% cooked, remove and drain. Set aside.
(Tips on how to eat: take a piece of the leave, spread a little bit of the sambal belacan on the leave, scoop some yam bean mixture to put on top, wrap/ fold it and……….ENJOY!)