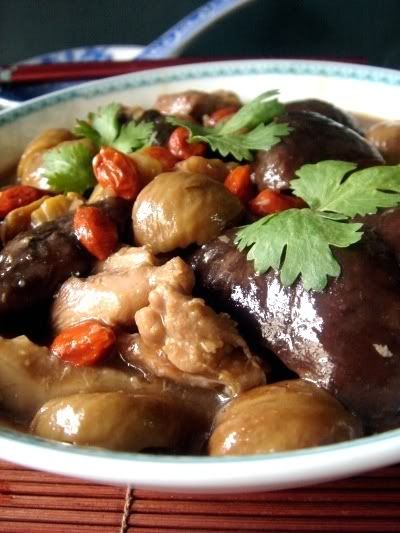 Ingredients:
200g Chinese chestnuts (fresh)
2 chicken thighs (de-boned & skinless) - marinated with 2 tbsp light soya sauce, dash of sugar and cornflour for at least ½ hour
5 fresh mushrooms
2-3 tbsp wolfberries (kei chi - 枸子)
4 cloves garlic (bruised)
Coriander leaves (for garnishing)
300ml water

Seasonings:
2 tbsp oyster sauce
1 tbsp concentrated Maggi chicken stocks(上汤)
Dash of dark soya sauce
Dash of sesame oil and pepper
Cornflour (for thickening)

Methods:
1. Wash chestnuts and place in a small saucepan together with the water. Boil for 15 mins, remove and soak in cold water. Use knife to remove the skin. Cut into smaller pieces.
2. Heat up wok with 1 tbsp oil. Sautee garlic, then add chestnuts and stir-fry for a while.
3. Pour in 90% water and seasoning. Bring to the boil, then reduce the heat to low and simmer for about 45 mins or until the chestnuts are tender.
4. Then add in mushroom and chicken and simmer for another 10 mins
5. Add in cornflour solution and bring to boil. Then stir in wolfberries and simmer for 30 secs.
6. Dish up, garnish with coriander leaves and serve.

Note:
You can use dried mushrooms but need to pre-soak it in advance. Add in during step 2.