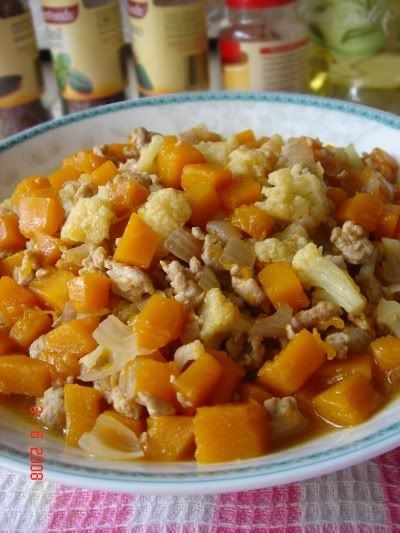 Ingredients:
140g pumpkin
200g cauliflower
140g minced meat (marinated with 2 tbsp light soya sauce, 1tsp sugar and cornflour)
1 red onion

Seasonings:
1½ tbsp oyster sauce
½ tbsp concentrated chicken stocks
½ tbsp sesame oil
Dash of pepper
Cornflour

Methods:
1. Heat up wok with oil. Sautee onion until transparent.
2. Add in cauliflower and stir fry for a while. Add a bit of water and cover with lid to simmer for a while.
3. Add in pumpkin and seasonings. Continue to simmer until the pumpkin is cooked (before it becomes too soft)
4. Add in cornflour for thickening.